Story and photos by Bob Schulman
There weren't supposed to be any big archaeological sites along the Pacific coast of Mexico, but a few years ago some explorers found one.
Now they're digging it up, and it's turning out to be a real whopper – possibly covering an area of 8 square miles.
From what archaeologists have uncovered so far, the whole site could be dotted by pyramids, temples, holy altars, villages and the like. They've already excavated some jaw-dropping structures.
Marketing officials at the nearby beach resort of Ixtapa-Zihuatanejo expect to enjoy a tourism bonanza when a small portion of the ancient site opens to the public in early 2013.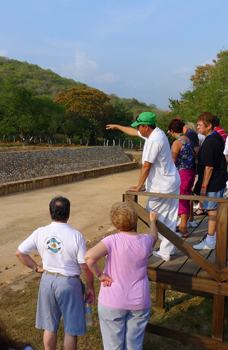 The site is called Xihuacan (she-wha-cahn), meaning something like "place of the people who control eternity." Archaeologists say the area is distinctive among Mexican ruins because it was a multi-cultural ceremonial center, having been used for the worship of different gods by a pantheon of the country's pre-Hispanic tribes.
Artifacts found in the ruins show the Cuitlatecas, Tarascans, Mixtecas, Aztecs, Zapotecas, Totonacas, Toltecs, Olmecs and others all showed up here for ceremonies at different times over the centuries. "We've even found evidence that Mayans once gathered at Xihuacan, far from their homeland in the east," said site archaeologist Rodolfo Lobato.
"Xihuacan could very well have been Mexico's first convention center," quips Ana Luisa Moran, spokeswoman for the Ixtapa-Zihuatanejo Convention & Visitors Office.
When the site opens, tourists will be able to scamper around some initially restored structures such as a 45-foot-high, flat-top pyramid with a base about the size of a city block. Another restored eye-popper is a 180-foot-long ball court, believed to be one of the largest pre-Hispanic courts in Mexico.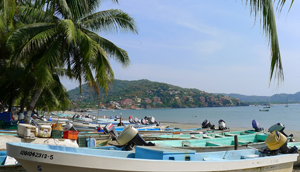 Next up for excavation are the ruins of a royal city next to the ball court. Mounds marking the likely locations of the king's palace and its surrounding structures are covered by tons of sand, possibly the result of a huge tsunami wave that came rolling in from the Pacific centuries ago.
Greeting visitors to Xihuacan is a museum displaying close to 1,000 relics from various tribes, including figurines, vases, copper axes, carved sea shells, ceramics and bell necklaces.
Spokeswoman Moran says the site could be "a fabulous new attraction" in drawing more visitors to the hotel-resorts lining Ixtapa's beaches and to the boutique hotels around the neighboring village of Zihuatanejo.
"The (archaeological) site will add a whole new cultural dimension to the experience of staying here," says Eva Breuer, owner of the Catalina Beach Resort on the bay of Zihuatanejo.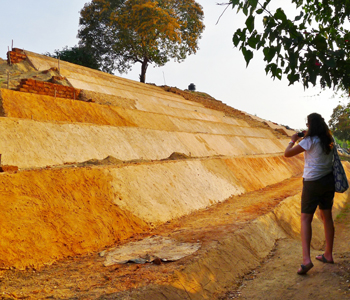 Ixtapa's newest hotel, the 323-suite all-inclusive Azul Grand, will bring the lodging capacity of the two areas to a little over 6,000 rooms when it opens in early 2013.
Xihuacan is about a half-hour drive from Ixtapa on a road that passes through a tiny village near the entrance to the site. Local businesspersons are said to be looking forward to an economic windfall from all the new tourists heading their way. One jackpot might be in tee-shirt sales, some perhaps reading "I (heart) Xihuacan."
Other tees might be imprinted with the village's two commonly used names, La Soledad de Maciel (Soledad was the wife of the former owner of the area, Luis Maciel) and La Chole (Soledad's nickname).
Getting there: Nonstop flights to Ixtapa-Zihuatanejo are scheduled from U.S. gateways such as Los Angeles, Houston and Phoenix. Another option is to fly to Mexico City and catch a domestic hop to the resort.
More info: Click on the Ixtapa-Zihuatanejo website at www.visitIZ.com or the Mexico Tourism Board's site at www.visitmexico.com.