From the bilingual book "Through the Eyes of the Soul, Day of the Dead in Mexico – Mexico City, Mixquic and Morelos."
In the Mexican capital, death is intellectualized in museums and galleries, it dresses up for a night gala in five stars hotels, and yet easily maintains it's provincial air in humble neighborhoods.

Because of the extension of the City, one must visit the Capital for at least two continuous years during the season of Day of the Dead, to have a more profound vision of the changes that take place in it's inhabitants when they start preparing to celebrate this tradition, so closely tied to the soul of Mexicans.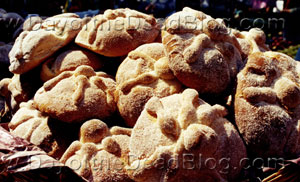 To be born and to die is one of the dualities faced by human beings and everything that exists. This duality is the key to the Mexican idiosyncrasy, manifested in the pre-Cortez epoch and routed among the centuries in a mix of pre-Hispanic and religious beliefs, of humor and mysticism, of sadness and joy.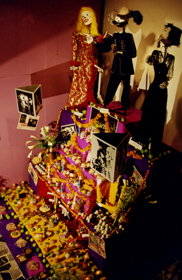 Like the small towns of the provinces, the majority of the residents in Mexico City prepare with anticipation to celebrate with dignity the return of the souls of the dead.In the Capital the offerings are placed in museums and galleries entrusting the work to artists that interpret different subjects or motives, in creating truly artistic designs to later expose them to an array of aromas and colors in which the flower of the season – the cempasuchitl – is the prevailing one.
It is difficult to calculate the amount of craftsmanship that is sold at different prices in Mexico City; this shows that the industry that generates the Day of the Dead is one of the most important affecting the year's economy of the city, and at the same time demonstrates that this tradition is more alive than ever.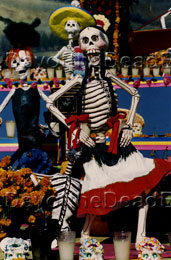 In what corresponds to the festive activity, besides eating the chocolate and sugar skeletons with one's name on it, children, even adults buy toys with images of an enthusiastic skeleton made of paper mache, and jointed skeletons which dance when you pull on a string. Very few stay away from the funeral procession consisting of paper dolls with heads made of garbanzo, which move by the means of a thread, making the head come out of the coffin. The craftsman takes advantage of the opportunity to write special messages on the coffin.
Names of the members of the Linares family represent with their work what the Day of the Dead is in Mexico. The paper mache skeletons which they exhibit annually are a tradition already established in October and November of each year.
To order any of the publications of Day of the Dead by Mary J. Andrade, please return to the Home page and click on "Books of Day of the Dead" banner.