Day of the Dead art exhibit and presentation featuring author and photographer Mary J. Andrade to be held Oct. 24
San José, Calif.—October 18, 2012—The National Hispanic University (NHU) will host its third annual Day of the Dead—Día de los Muertos—festival on Saturday, Oct. 27, from 11 a.m. to 7 p.m.
The festival is free to the public and will feature live music, cultural performances and procession, children's activities, arts and crafts and a display of decorative altars and masks created by members of the community.
City councilmember Xavier Campos and the Hon. Carlos Ponce Martinez, consul general of Mexico, will address festival attendees about the cultural importance of the Day of the Dead. Additionally, performers such as Danza Azteca Cipactonalli, Reinas de la Bahía, Fuego Nuevo Ballet, Mariachi Tapatío, Sonora Santanera and Los Cadetes de Rigoberto Cantú are scheduled to perform.
"NHU is proud to once again host this cultural event where we can bring together the people of San José for this ancient celebration," said Dr. David López, president of NHU. "We have a strong tradition of giving back to our community, and this event provides us with the opportunity to engage with them while honoring the dead, commemorating our culture and celebrating the continuity of life."
The university will partner again this year with the local YMCA to explain the cultural significance of this traditional Mexican holiday to youth in the area. Seventeen schools will participate in an after-school enrichment program, developed by NHU and the YMCA, designed to teach local youth how to create traditional Mexican masks. More than 500 masks will be created and exhibited at the festival. A panel of judges will vote on the masks and altars created by the students and community and award prizes for the most elaborate and interesting designs.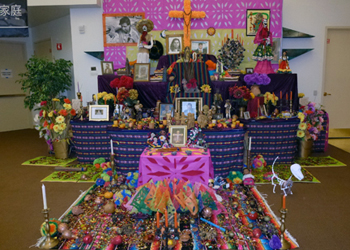 In addition to the YMCA, other partners for NHU's Day of the Dead celebration include Verizon, Farmers Insurance Group, Mi Pueblo, Lazos Oaxaqueños and Univision, among others.
Leading up to the Day of the Dead festival, the university will host several activities and events on campus, including a reception and presentation by author and photographer Mary J. Andrade on Wednesday, Oct. 24, at 5:15 p.m. Andrade will discuss her travels throughout Mexico documenting the Día de los Muertos celebrations. Approximately 40 pieces of her photography will be on display. There will also be an art exhibit featuring 14 artists and their interpretations of the Day of the Dead.
For a complete list of activities and events for NHU's Day of the Dead celebration and the week leading up to it, visit www.NHU.edu/dia_de_los_muertos.