Story and photos by Bob Schulman
Cosala, Mexico — This little storybook town in the Sierra Madres invites you to drop by for a day or two the next time you're vacationing down the coast in the big resort at Mazatlan.

It's just a drive of three hours away, officials point out, but it's like riding back to another time when Cosala was the capital of the State of the West — a combination of the modern-day states of Sinaloa and Sonora — and one of the richest cities in Mexico.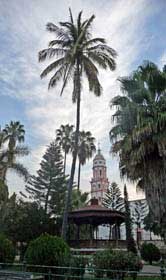 Silver miners hit paydirt here in 1562. Soon, the village was brimming with the mansions of silver barons, elaborate porticoed walkways and all the other splendors of colonial Spain. Better than 2,000 historic sites are still standing, many now housing everything from bars to barbershops.
Cosala hit another kind of paydirt in 2005 when it was added to Mexico's prestigious list of "magic towns," so-named for their "charming architecture, exquisite gastronomy and traditional festivities."
The city has been spruced up quite a bit since then. For example, the formerly all-white buildings lining its narrow lanes have been turned into a stunning kaleidoscope of pastel browns, blues, greens, yellows and reds. Sights like these were enjoyed by some 34,000 visitors last year, roughly double the count before the city was tapped by Mexico's magic wand. And the count is expected to double again this year.
Mayor Juan Martinez wants you to know that visitors are welcome to rub elbows with the local folks at Cosala's traditional free fiestas. They're staged on Friday and Saturday nights (and also on other nights, seemingly at the drop of a sombrero). Among highlights of the entertainment, singers belt out everyone's favorite Mexican songs and dancers from tots to teens act out old-time Sinaloan folk tales.

Pleasantly, there are a number of things you won't see here. Like tacky souvenir stands, fake watch stalls and kids selling burro rides. Also, you won't spot any Burger Kings or Pizza Huts or any other American fast-food imports. Suppose you get a Big Mac attack? Not to worry, there's a place on the town square named "Exquisite Hamburgers and Hot Dogs."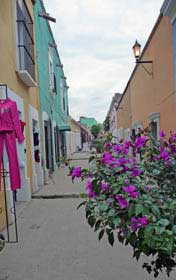 Some visitors stick around for a few extra days to enjoy activities in the surrounding areas. About five miles away, for example, the Vado Hondo nature preserve offers a kind of obstacle course that takes you on four ziplines and three walkways over the jungle canopy, and for the finale a rappel down a 30-foot-high tree. Other nearby attractions include bathing in hot springs, exploring caverns, birdwatching and checking out handicraft villages.
Anyone for fishing? You've got lots of options around these parts, from hooking striped bass on a huge lake created by the Jose Lopez Portillo Dam to camping out in a recently opened lodge on Lake Comedero (check out www.mexicobassadventures.com).
Visitors to Cosala have their pick of a dozen or so tourist-class restaurants, all within walking distance of their hotels (as is just about everything else). Top places to dine include El Pueblito, the Merendero and El Sazon de Dona Tichi. Among regional specialties are machaca dishes, chorizo, tamales, empanadas and white cheeses, typically served with blue tortillas.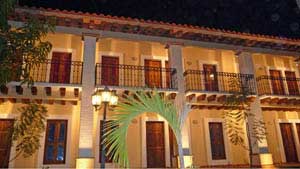 Day trips and overnight tours of Cosala can be booked by your travel agent or at hotels in Mazatlan. For stayover guests, Cosala has nine hotels with a total of 220 rooms. Fifty-four of these are in the pleasant colonial-style Hacienda Quinta Minera (www.hotel-quintaminera.com) where rates start at about $60 a night.
More information: The two best websites are Spanish-only for now, www.vivesineloa.com and www.cosala.gob.mx.