Mazatlan and Mexico were recognized as "The Best Cultural Entry" at this year's Stampede Parade.
Aboard horses, the Governor of Sinaloa, Mario López Valdez, and the Secretary of Tourism for the region, Frank Cordova, were accompanied by a mariachi band, youth dance groups wearing traditional costumes from different parts of Mexico and a Mazatlan-decorated float.
Mazatlan Stampede Fiesta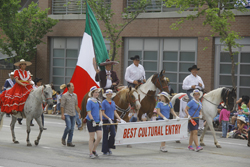 On Saturday, July 5 Mazatlan hosted a Stampede Fiesta in Calgary, showcasing the destination's culture, unique colonial history and world-glass gastronomy.
At the event, the Governor of Sinaloa, Mario López Valdez, the Mayor of Mazatlan, Carlos González Felton, and the Secretary of Tourism for the region, Frank Cordova, were awarded the distinctive White Hat as a symbol of friendship between the cities of Calgary and Mazatlan.
The Mayor of Calgary was also awarded with a symbolic gourd, painted with the images of different agricultural products grown throughout Sinaloa by artists from Mazatlan.
California Seminar Series — July 8-10, 2014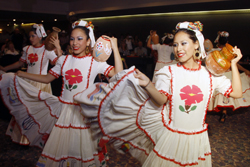 Following Secretary Cordova's trip to Calgary Stampede, he traveled to California for a seminar series in the San Francisco Bay Area, Los Angeles and Orange County. Meeting with wholesalers, travel agents and members of the media to discuss general updates in Mazatlan, Secretary Cordova shared why the Colonial City on the Beach has become an increasingly popular destination for California travelers.
Overall, with more than 300,000 travelers from the United States and Canada visiting Mazatlan in 2013, which was the most since 2007, the destination is expected to see upwards of 550,000 visitors from those key markets in 2014. This sustained momentum is largely due to increased accessibility through new flights and cruise line returns, key infrastructure developments and a booming Meetings, Incentives, Conferences & Exhibitions (MICE) industry.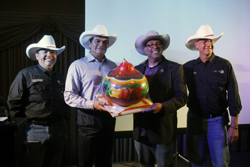 For example, in April 2014 it was announced that Delta Air Lines will add nonstop service between Los Angeles and Mazatlan beginning in December 2014. In May 2014, it was announced that Carnival Cruise Lines will resume service to Mazatlan with year-round cruises departing out of Los Angeles beginning in April 2015. Now, five major cruise lines either currently service or plan to service the destination, including Carnival Cruise Lines, Princess Cruises, Holland America Line, Norwegian Cruise Line and Azamara Club Cruises.