The Tree of Life and Death: Días de los Muertos 2013
Highlights the Webs of Connection Between Humans and Nature.
Exhibition of Altars by Artists, Schools, and Community Organizations is Guest Curated by Eduardo Pineda with Community Celebration on October 27
Photos Courtesy of Oakland Museum of California. Photos by Shaun Roberts.
(Oakland, CA) July 23, 2013 – In one of the nation's most unique and long-standing celebrations of the Mesoamerican Days of the Dead, the Oakland Museum of California (OMCA) will present an exhibition and community celebration focusing on the interconnections between humans and nature—past, present, and future—in the Museum's extensive new 25,000 square foot Gallery of Natural Sciences, which opened to the public May 31 after a four-year transformation. Elaborating on the traditional Days of the Dead in honoring the lives of humans, this year's exhibition, titled The Tree of Life and Death: Días de los Muertos 2013, will invoke the presence and spirits of nature as well. The exhibition—OMCA's 19th annual—will be on view October 9 through December 8 in the Gallery of California Natural Sciences.
On October 27, the public is invited to join OMCA for the 19th annual museum-wide Days of the Dead community celebration. Admission includes access to the special exhibition The Tree of Life and Death as well as all permanent Galleries and special exhibitions, local musicians, folklorico and Aztec dance companies, demonstrations by artisans, and Days of the Dead-inspired craft activities for visitors to make and take home, a curated artisan market and food available for purchase from selected local food vendors. For more information, visit museumca.org.
The Tree of Life and Death: Días de los Muertos 2013 exhibition will feature new work by nine visual artists examining themes of remembrance, interactions between humans and nature both of this world and in the afterlife, environmental issues such as endangered and extinct species, and other related topics. Several of the works will be site-specific and installed among the natural sciences exhibits in the Gallery, offering an expanded and interactive visitor experience. Guest curated by Bay Area artist Eduardo Pineda, The Tree of Life and Death will highlight new, commissioned works in the form of ofrendas (altars) by Natalia Anciso, Amy and Sal (El Chamuco) Cortez, Rubén Guzman, Fernando Hernandez, Nancy Hom, Ernesto Olmos, Samuel Rodriguez, Karen Seneferu, and Wendeanne Ke'aka Stitt. In addition to individual artists' altars, the exhibition features community altars by the Educational Coalition for Hispanics Organization (Oakland), students from La Escuelita (Oakland) with lead artist Jose Ortiz, and students from Bancroft Middle School (San Leandro) with lead artist and teacher Lee Rosenberg.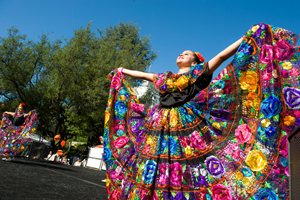 Through altars and installations, the exhibition pays tribute to Californians of all species—humans, animals, and plants—and reveals the vital connections between them as well as the continuum between living and dead. Using OMCA's new Gallery of Natural Sciences for inspiration, participating artists and groups were invited to discover and respond to stories that stem from California's status as one of the top ten most biologically diverse areas on Earth.
"We want to look beyond the human surface of life and death and discover the deep and rich inter-connections that sustain us all," says guest curator Eduardo Pineda, who organized the exhibition in collaboration with Museum professionals.
Examples of altars featured in the exhibition include:
• Amy and Sal Cortez' dynamic skeleton mermaid composed of paper mache and plastic trash commonly found on California beaches, representing the precious and perilous relationship humans have with water. The aquatic figure is a fusion of indigenous, African, and Buddhist spirituality.
• The tree-altar created by artist Ernesto Olmos, reflecting the significance of this plant form in Mesoamerican cosmology while celebrating the phases of life, death, and regeneration.
• A traditional altar by students from La Escuelita, led by artist Jose Ortiz, which honors a beloved teacher recently lost, who lives on through his legacy at the school.
Eduardo Pineda has been an active participant in the United States Community Mural Movement since 1978. Pineda has held positions in museum education at both the Museum of the African Diaspora (MoAD) and the San Francisco Museum of Modern Art (SFMOMA), and has artwork in the collection of the Fine Arts Museums of San Francisco's Achenbach Foundation for Graphic Arts and the public art collection of the Alameda County Arts Commission.
The Tree of Life and Death: Días de los Muertos 2013 and the 2013 Days of the Dead Community Celebration are made possible in part by generous support from Kaiser Permanente and the Oakland Museum Women's Board.
About Day of the Dead
Celebrated annually between October 31 and November 2, the Mesoamerican tradition of Days of the Dead or Días de los Muertos is widely associated with iconic and colorful elements—such as sugar skulls, marigolds, and altars—or ofrendas—arranged or created in honor of deceased loved ones. OMCA's annual Days of the Dead Community Celebration has been one of the Bay Area's most popular community events, drawing thousands of participants yearly.
About the newly transformed Gallery of CA Natural Sciences
On May 31, 2013, the Oakland Museum of California will open its newly transformed Gallery of California Natural Sciences to the public after more than three years of redesigning and reinstalling its exhibits and programs with public input and a completely new concept. Visitors will experience seven real places throughout California that depict the state's diversity of climate, geology, habitats, ecosystems, and wildlife, while exploring current research, contemporary issues of land use, environmental conflict, conservation projects, and more. Innovative displays present the fusion of world-class dioramas with emerging technologies, citizen science projects, and visitor contributions, enabling the new Gallery to tell the story of California's amazing natural world through the voices of local community members and scientists, while providing an immersive and intimate experience of the individual habitats.
Visitors to the new exhibits will experience the Golden State's natural offerings like never before with a fresh focus on California's natural history, the threats it faces, and humans' relationships with nature. The reinstalled Gallery draws on the Museum's extensive holdings, community resources, and established track record as a leader in creating a visitor-centered experience. The interdisciplinary gallery will feature relevant art and historical connections alongside brand new and repurposed natural science dioramas that merge new multimedia and interactive elements.
At 25,000 square feet, the vast gallery space is the only museum presentation of its kind to showcase a collective portrait of California's rich biodiversity, with more than 2,000 plant and animal species featured, alongside humans' interaction with the natural world. These converged storylines will raise awareness of the state's environmental pressures that call for a heightened need for conservation and provide dynamic and inspiring opportunities for visitors to become involved in the future of California's natural world.
About the Oakland Museum of California
The Oakland Museum of California (OMCA) brings together collections of art, history and natural science under one roof to tell the extraordinary stories of California and its people. OMCA's groundbreaking exhibits tell the many stories that comprise California with many voices, often drawing on first-person accounts by people who have shaped California's cultural heritage. Visitors are invited to actively participate in the Museum as they learn about the natural, artistic and social forces that affect the state and investigate their own role in both its history and its future. With more than 1.8 million objects, OMCA is a leading cultural institution of the Bay Area and a resource for the research and understanding of California's dynamic cultural and environmental heritage.
Visitor information
The Oakland Museum of California (OMCA) is at 1000 Oak Street, at 10th Street, in Oakland. OMCA is situated between downtown Oakland and Lake Merritt. Museum admission is $12 general; $9 seniors and students with valid ID, $6 youth ages 9 to 17, and free for Members and children 8 and under. OMCA offers onsite underground parking and is conveniently located one block from the Lake Merritt BART station, on the corner of 10th Street and Oak Street. The accessibility ramp is located at the new 1000 Oak Street main entrance. For more information, visit museumca.org.