El Teatro Campesino, The Farmworkers Theater of America located in San Juan Bautista, California will be celebrating , the traditional Mexican celebration of All Souls Day called "Dia de los Muertos". This event, slated to begin on October 31, was initiated by El Teatro Campesino more than 30 years ago.
Highlighting this year's event will be performances by Esperanza del Valle who's mission is "to cultivate and promote pride and understanding of the Mexican culture through its rich folkloric dances rooted in the merging of our indigenous, European, and African heritage".
El Teatro Campesino and Esperanza del Valle together will present an celebration
of extraordinary entertainment. Additional events scheduled are:
• Gallery of traditional and artistic altars / ofrendas at the Playhouse
• Procession through old San Juan Bautista @ 7:00p.m. (Sat. Nov. 1st only)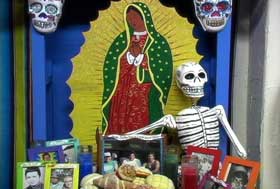 • Family fun including: Face Painting, Sugar Skull Decorating, Snacks and mucho, mucho more!
•Doors will open 1 hour before show time for viewing the altars.
Performance dates and times:
• Friday, October 31st @ 8:00pm
• Saturday, November 1st @ 8:00pm
• Sunday, November 2nd @ 2:00pm
Second Weekend
• Friday, November 7 @ 8:00p
• Saturday, November 8 @ 8:00pm
• Sunday, November 9 @ 2:00pm
Ticket prices for this special event are $20.00 Adults, $18.00 Seniors/Students and $12.00 Children.
The Playhouse of El Teatro Campesino is located at 705 Fourth Street in the City of History, San Juan Bautista. Advance tickets are recommended. Purchase your tickets early by calling El Teatro Campesino Box Office at (831) 623-2444 or online at www.elteatrocampesino.com