With Free Family Sunday Event on October 23rd
Partnered with Ford Motor Company, kid-friendly "Day of the Dead" holiday event to include family fun, creative activities, and mask-making contest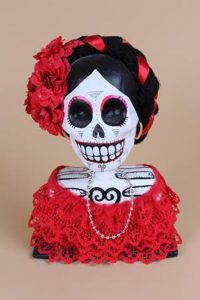 San Francisco, CA – October 2016 – The Mexican Museum will host a very special Family Sunday event on October 23, that will mark the celebration of Mexico's colorful Día de los Muertos (Day of the Dead). This year's Día de los Muertos festivities will run from 12 p.m. – 4 p.m. at The Mexican Museum, located at Fort Mason Center, Building D, in San Francisco. Like all Family Sundays, this event is free and open to people of all ages. Due to limited space, the public is encouraged to arrive early. Children must be accompanied by an adult. For more information, please call (415) 202-9700 ext 224.
Creative festivities at the museum's 2016 Día de los Muertos event will include "Calavera" skull-mask face painting done by professional Bay Area face painters. Guests can also participate in Make a Mask with Ford! – a special activity where attendees can decorate their own papier-mâché mask using supplied materials (limited activity with 45 masks provided). A contest will be held to select the most creative mask, with the top pick winning a one-year family membership to The Mexican Museum.
Partnered with the Ford Motor Company, which believes that diversity and inclusion are critical to the company's success. President and CEO Mark Fields believes they are part of Ford's commitment to Go Further by working together as one team while leveraging skills across the globe, valuing, including and respecting each other and, in doing so, achieving profitable growth for all.
Because Día de los Muertos is a day to remember departed loved ones, The Mexican Museum will also supply art tables where guests can make personalized, mini-altars for loved ones who have passed away. Attendees are encouraged to bring printed photos of their loved ones or a small item in honor of them to create a personalized mini-ofrenda. Museum volunteers will be on hand to assist younger artists and answer questions. Additionally, Bay Area artists Paco and Gloria Toscano will showcase a special altar made for The Mexican Museum, which will be on display in the reception area of the museum.
This year's Día de los Muertos Family Sunday event is especially poignant to The Mexican Museum as it acknowledges the passing of the museum's beloved founder, Peter Rodriguez, who died on July 1, 2016. The October 23rd event will celebrate Rodriguez' dedication to the global recognition and advancement of Mexican, Chicano, and Latin American art and culture.
In addition to the hands-on projects, attendees will be able to view an exhibition of contemporary Latino art. The gift store, La Tienda, will also be open.
The Mexican Museum is open Thursday – Sunday from noon to 4 p.m. FREE Admission.
About Día de los Muertos: Día de los Muertos is a renowned Mexican holiday celebrated each year on November 1-2, and is marked by the gathering of family and friends to remember dead loved ones. It is believed that on this day, deceased loved ones come back to visit with their families. Families build altars to remember and welcome back their loved ones and, along with a photo of the dead relation, his or her favorite food and drink are placed on this altar.