By Lina Broydo
Photos by Sam Broydo
Living la vida loca was my dream "getaway" come true as we reached Zihuatanejo Bay, the magical oyster-shaped natural harbor on the Pacific Coast of Mexican Riviera in the State of Guerrero.
The whirlpool of hectic and exciting activities related to our family's birthdays and wedding anniversary celebrations, school graduations and four weeks babysitting our two adorable, but very inquisitive and energetic grandkids, left us craving for a great escape. The coast is clear: our paradise was found in Zihuatanejo, an enchanting vacation destination in Mexico.
In the ten days of tranquility we traded our palm pilot for the palm trees as we watched our life's tension wash away with playful tides reaching the golden sand premier beach. No wonder that one of the top luxury hotels located just a few steps away from the ocean is named: "The Tides", www.tideszihuatanejo.com.
We were fortunate to find extraordinary accommodations at Playa La Ropa's front-beach Club Intrawest with its stunning architecture of cascading tiers of rooms and suites, beautiful swimming pools with well stocked bar, spa, gourmet and casual restaurants, verandas with hot tub and balconies overlooking the gorgeous Zihuatanejo Bay, www.clubintrawest.com.
While lounging on the hotel's private beach, we met Diane and Mark from Detroit who became our companions for a few full-filling outings to downtown Zihuatanejo's culinary establishments. Mark, who is an avid deep-sea fisherman, returned successfully from his expedition into the sea with a splendid 60-pounds dorado, the star of the local fish family. With this treasured cargo we zipped to the downtown's Bandido's Restaurant and Bar where the chef offered to grill our freshly delivered catch-of-the-day served with stuffed mushrooms with mozzarella cheese and Bandido's secret sauce and prepared at the table fresh salsa, and guacamole. Uncorking Mexico's vibrant wine produced by the country's award winning boutique wineries exclusively for the restaurants, added a local gourmet flair to our dining experience. Dancing salsa, trova and bolero to the restaurant's live music band, we all agreed Diane was definitely the dancing star of the night.
While Mark and his friends were fishing, Diane and I decided to try our hand at cooking Mexican delicacies at Monica's cooking school located in her restaurant's private patio www.patiomexica.com. Joining Monica and seven students in our cooking class on a brisk 20-minute morning walk to the downtown's market we cozied up with fresh vegetables, fruit and freshly baked breads by Armedas local bakery, while selecting all the necessary ingredients for the preparation and the tasting of our food du jour creations. In addition to running the cooking school, Monica serves wonderful breakfast and lunch with the organic coffee from her plantation in the mountains above the city. Managed by Monica's husband, the restaurant is also open for dinner. To the sounds of Spanish guitar played with melodic
i
Interpretation by a local musician, our introduction to the local authentic gastronomy and culture was a delightful find.
The name Zihuatanejo comes from the Nahuatl word "Zihuatlan" which means "Land of Women". No wonder many of the artists saluted women by creating many outdoor sculptures spread around the maze of small streets in downtown Zihuatanejo. My favorite sculpture of a beautiful woman sitting high on the rocky boulder is located on the scenic winding promenade along the Playa La Madera beach. It somehow reminded me of the famous Little Mermaid statue in the harbor of Copenhagen in Denmark.
There is a glow of pride for many local and international artists whose artwork is showcased in many galleries as well as in the traditional handcraft market Mercado de Artesanias and the Mercado Central. Facing the town's beach is the renowned Archeological Museum of La Costa Grande. It illustrates human evolution from pre-historic to pre-Hispanic eras, according to findings form 54 archeological sites discovered nearby and elsewhere along the Costa Grande, named after the expanse of Guerrero coastline which encompasses Zihuatanejo, Ixtapa and Acapulco. The museum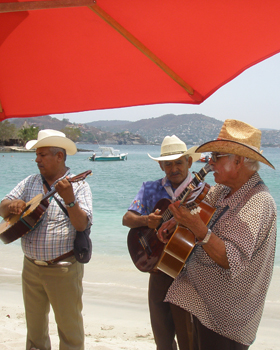 surrounds a central patio and houses six exhibit rooms with a remarkable array of artifacts, stone carvings, jewelry, figurines of ceramic, clay and seashells, as well as murals and maps which attest to Olmec, Teotihuacan, Tarascan and Mexica (Aztec) presence and influences in this coast region. Admission is $10 pesos, open daily from10am to 6pm, except Mondays.
The outdoor splendor of mornings and early evenings walks or jogging along the broad, soft-sand mile-long Playa La Ropa Beach, considered one of the most beautiful on the Costa Grande, presented an opportunity to stay in shape and enjoy some of the wonderful beachfront restaurants: Patty's Marimar Restaurant serving the best shrimp omelet with home made fresh mango spread on toast with Zihutlan Mexican organic coffee for breakfast; fresh grilled red snapper for lunch or dinner at La Perla Restaurant; and fresh lobster dinner for two at Rossy's Seafood restaurant's second floor terrace in order to admire the sunset and moonrise, sometimes occurring simultaneously. And cheer Corona, the crown of local beer. Since there is no need to drive back to the hotel, enjoy it…
Returning to the hotel's beach for an afternoon swim in the tropical warm temperature of the ocean with calm surf and sandy bottom, I relax with kindle, my new acquired friend, whom I abandon shortly as I blissfully fall asleep to the sounds of the gentle dialogue among small birds sitting on the magnificent environmentally protected lavish trees, and the playful waves of the sea.. This is paradise.
Venturing on a boat (pangas) 10-minutes trip ($4 return from the town's main pier) to visit Playa Las Gatas, a small picturesque cove on the south side of the bay, talked about as the dream "getaway" in the movie "The Shawshank Redemption"(1994) with actors Tom Robbins and Morgan Freeman, we uncovered and stumbled upon a few surprising sites:
* A submerged under water 1-ton in weight and 12 feet tall bronze sculpture "King of Kings" of Christ King, created by sculptor Marco Antonio Rivero, a native of the State of Guerrero. With the town-people's support a great number of keys were collected, which comprised the raw material of this masterful handwork of the bronze figure. The sculpture can be explored by snorkeling in the area where the statue is submerged.
Zihuatanejo may offer an old-fashioned small-town atmosphere, but it definitely knows a thing or two about life on the big stage of romance and joie de vivre. The jewel of luxury and the honeymooners dream, as well as mine, is La Casa Canta Hotel, also located on Playa La Ropa. The hotel's extraordinary architectural showcase of 25 suites, some with private swimming pools, Claris Spa, as well as the infinity-edge pool, made famous by the romantic drama film "When a Man Loves a Woman" (1995), starring Meg Ryan and Andy Garcia. Our sunset dinner on the hotel's Outside Terrace restaurant overlooking Zihuatanejo Bay made our culinary journey worth a splurge. According to Luisa Sánchez, the hotel's Sales Manager, "La Casa Que Canta", means The House That Sings in Spanish. We decided to compliment the sounds of natural environment of the near by ocean's waves and the singing of the birds by naming all of the hotel's suites with the titles of popular Mexican songs: "Besame Mucho", "Sabor a Mi", "Mexico Lindo", "Peregrina". www.lacasaquecanta.com.
My friend Fernando asked me: "Why write about it? If you liked it so much, keep it a secret." But, but…I was ready to share my memories of Zihuatanejo with my friends, after all what are friends for?
After a 10-day sampling of the many pleasures of Mexico's Pacific Coast, it is not adios Zihuatanejo, but gracias, amor and hasta luego.
Zihuatanejo's native and expatriate community contributes regularly to a website devoted to the happenings in the area at zihua.net/index.php. A visitor's guide put together by the visitor's bureau is www.visitixtapazihuatanejo.com