Story and images by Bob Schulman
In 1948, entrepreneur Salvador Gonzalez built a 12-room hotel in what was then the tiny Mexican beach town of Puerto Vallarta.
He named it the Hotel Rosita, after his oldest daughter.
The hotel is still open – it's now the booming city's oldest resort hotel – and you can see what Puerto Vallarta looked like 65 years ago in a mural in the Rosita's lobby. There wasn't much there, mainly a church, some homes scattered on hillsides above the village, the Rosita, and a short cobblestone walkway from the hotel to a waterfront plaza.
According to local chronista (historian) Manuel Encarnación, about 7,000 people lived around the city in the late 40s, mostly fishing families. "The town," he said, "stretched out for about 12 blocks, looking much like it did when the whole world saw it in John Huston's 1963 film, Night of the Iguana."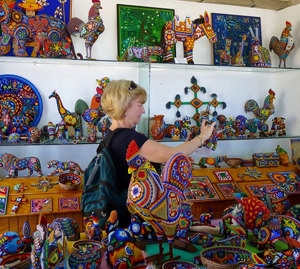 It turned out to be much more than a movie. Besides featuring a cast of superstars, among them Richard Burton, Ava Gardner, Deborah Kerr and Sue Lyon, the filming was spiced by an off-screen romance between Burton and Elizabeth Taylor, who'd followed him to Mexico. When word of this got out – both were married to other people at the time – the scandal made headlines around the globe.
Soon, hundreds of reporters were on the scene, straining to catch a glimpse of the couple cavorting between their secluded villas in an area of town known as "Gringo Gulch." Between snippets of Dick and Liz, the media sweetened its coverage with shots of the city's sundrenched beaches and the old-world charm of its cobbled lanes and colonial architecture.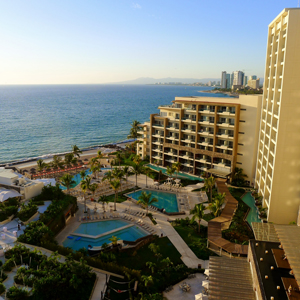 Puerto Vallarta got millions of dollars worth of free publicity, and it hasn't been the same since.
As more and more tourists began showing up at "PV" (as the locals call it), developers began building posh hotels around the city and along the beaches edging its immense, crescent-shaped bay.
Fast-forward to today, and PV is one of Mexico's most popular resorts hosting millions of tourists a year. Lining miles of beaches are some 300 high-rise hotels and boutique inns, all told offering close to 23,000 rooms. The city is now home to more than a quarter-million people.
And what had once been a little waterfront plaza has been transformed into PV's crown jewel: the Malecon, a mile-long beachfront promenade packed with wall-to-wall art galleries, upscale jewelry and leather shops, tony restaurants, outdoor cafes and quirky bars.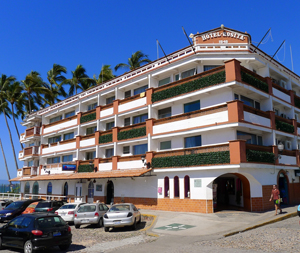 Visitors wandering around the shops are treated to dozens of whimsical artworks peppering the beach side of the promenade. Popping up from the sands are everything from Star Wars "Wookiee" characters to statues of giant seahorses, mermaids, jumbo-sized seashells, dancing dolphins and surrealistic high-backed chairs with sea critters sitting in them.
So where is the Rosita? It grew to 112 rooms over the years, but it's right where it's always been – except today that spot anchors the main entrance to the later built Malecon.
"Little did (the builder) know that the Rosita would some day have such a wonderful location," said Marcelo Alcaraz, the hotel's general manager.
Staying there: Among PV's 300 hotels are recommended high-end properties such as AMResorts' 271-suite Secrets and its adjacent 327-suite Now Amber.
More info: Visit the Rosita's website at www.hotelrosita.com and the PV Visitors and Convention Bureau at visitpuertovallarta.com.