Only in Mexico is Life honored through Death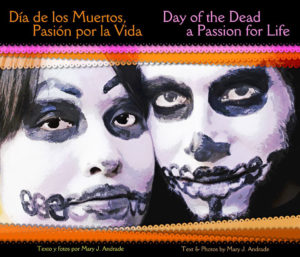 " Mexico is a country with a mixed culture of pre-Hispanic and Hispanic heritages and finds satisfaction in honoring the dead.

This tradition is superbly captured through the lens and spirit of Mary J. Andrade. Her commentary on the altars of the dead accompanied with exquisite photographs are a tribute to the Mexican culture and its funeral rites. Many years of research have made her an authentic and knowledgeable scholar and very few Mexicans have her expertise on the subject of Day of the Dead."
Eduardo Merlo Juarez, Anthropologist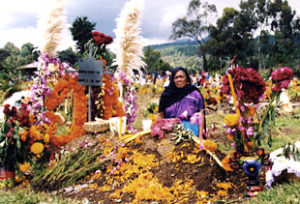 The P'urhepecha people live in four areas in the State of Michoacan : The Lake Area, el P'urhepecha Plateau, the Canada of the Eleven Towns and the Cienega. In each one of the towns, their inhabitants live with special characteristics and interpretations of the happy moment when they receive the souls of their loved ones every November first and second.
In this book, the first to be published covering such a wide region, the author takes the reader through the roads that she has traveled and shows the similarities and differences of how the P'urhepecha people celebrate the lives and the memories of their ancestors.
"East of Patzcuaro, still in the lake area, the village of Cuanajo celebrates a night vigil on November first. It is their tradition to have beautiful altars and to set out little wooden horses, which relatives and friends make in honor of a recently deceased soul. The horses and the altars are measures for remembering a deceased person. Spending time
together is also a very important part of this tradition, so relatives and neighbors visit houses holding vigils.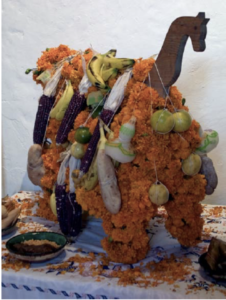 "Women typically take baskets covered with embroidered napkins and filled with fruit and vegetables, and deposit these gifts in
front of the altar. The owner of the home then returns the basket with tamales as a gesture of gratitude and reciprocity.
Men who are close with a family take a wooden horse called a huatzari to the home of the family holding the vigil. The horse is decorated with fruit and bread and is covered with small yellow flowers called Santa María. This native flower grows wild in the area and is picked specifically for this purpose. A number of horses can be taken in by a family on any given vigil. The next day all the horses are taken to the cemetery.
"The ritual of giving a wooden horse in Cuanajo is similar to the ritual of giving one in San Ángel Zurumucapio, which is in the P'urhepecha Plateau; however, only one horse is offered to the soul during San Angel's vigil, whereas many wooden horses are usually offered to the souls in Cuanajo. Furthermore, relatives in San Angel take the single horse back to the house after the vigil at the cemetery, whereas the horses in Cuanajo stay on the tombs in the cemetery. The horses mission is the same in both villages: To help a soul return to warkicho, the place of rest. Warkicho is also known as Mictlan in other villages."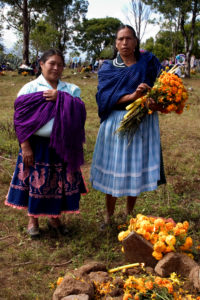 "Vibrant and plentiful photographs show the people, their rituals and intricate preparations, with bright backgrounds complementing the feast of colors." – Critica Magazine.
"Lavishly illustrated with full-color photography on practically every other page. A beautiful holiday tribute ideal for public libraries and reference shelves, or for ordinary readers to savor simply paging through." – The Midwest Book Review.
The book includes several poems written by the Spanish poet Julie Sopetran.
ISBN – 13: 978-0-9791624-0-4
Copyright 2006
Paperback, 200 pages
Price $34.95
Includes tax and shipping