Second Part
Story and photos by Bob Schulman
In Part 1 of this story we toured the Mayan archaeological site at Tulum on eastern Mexico's Riviera Maya.

We return to the area in Part 2 – this time with romance on our minds.
It's unlikely that the Spanish sailors who first spotted Tulum in 1518 had thoughts of roses and candlelight dinners as they sailed by. But of course they didn't know the city was used as a rest stop by Mayan women on their way to worship their goddess of love and fertility on the nearby island of Cozumel.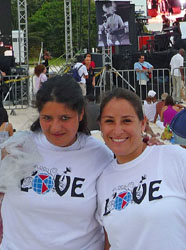 Had the sailors stopped at Tulum, they might have found dozens of romantically inclined women staying there.
Romance is still on the minds of millions of modern-day visitors to the Mexican Caribbean. Many come to tie the knot, lured not only by the draw of getting hitched in a tropical paradise but also by attractively priced wedding and honeymoon packages offered by hotels. Such deals produce "a huge amount of business for us," says Jeanette Rigter, public relations manager for the Riviera Maya Destination Marketing Office.
Rigter said "just about all" of the Riviera's 365 hotels cater to the weddings market. A good number of the properties, she noted, have wedding coordinators who can line up a local judge (you need a civil rite to be legally married in Mexico) and the required four official witnesses, take care of the paperwork and handle all the details of the ceremony down to the frosting on the wedding cake.
The process used to take a week or longer but can now be handled in just 24 hours, according to Rigter.
An example of how far the Riviera's hotels will go to get your wedding pesos is seen at the Real Resorts in Playa del Carmen where there's a Civil Registry Office for nuptial signups right on the property and also resident judges on hand. What's more, couples planning to say "I do" there can call on a "Royal Romance Concierge" to help set everything up.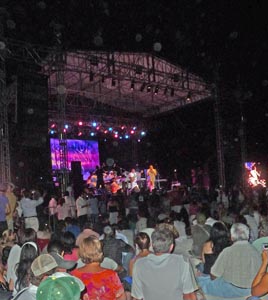 The romance card is played with an especially colorful flair by the Hotel Marina El Cid Spa & Beach Resort. Its weddings brochure lures couples with this offer: "Discover true romance and beauty (at El Cid), a breathtaking Riviera Maya wedding destination nestled amid aromatic plants, turquoise waters, ancient Mayan culture and world-renowned beaches."
The Blue Tulum Golf & Spa Resort woos the market this way: "Bring us your vision of the perfect Tulum Riviera Maya wedding and let us show you its realization."
If there was a prize for prose on the Riviera, it might arguably go to the El Dorado Spa Resort for these golden words: "Getting married (at El Dorado) means experiencing a lifetime moment under an oceanfront gazebo with the most gorgeous Caribbean landscape, holding hands with your loved one barefoot in the soft white sand or with the sunset charm under a magical set of palm trees."
Romance wafts through the air outside the hotels, too. On a balmy tropical night last month, for example, thousands of tourists and locals camped out on Playa del Carmen's Mamitas Beach to enjoy love songs crooned by American singers Phil Perry and Brian McKnight. The free concert was a prelude to the annual Riviera Maya Jazz Festival (www.rivieramayajazzfestival.com) set for Nov. 25-28.
More info: Visit the Riviera Maya Destination Marketing Office at rivieramaya.com/ or the Mexico Tourism Board at www.visitmexico.com.