Story and photos by Bob Schulman
Statistics show most visitors to eastern Mexico's Riviera Maya have been there at least once before.
Some come back because they love to flake out on the Riviera's powdery, white sand beaches, or because they've found a tropical Shangri-La at one of the area's nearly 400 hotels. Others return because they enjoy exploring ancient cities in what was once the heartland of the Mayan empire.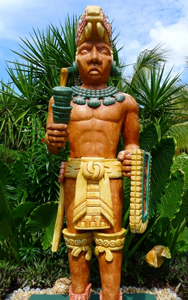 Repeat visitors as well as first-timers have some surprises coming if they show up on the Riviera over the next two months. That's because theme parks and hotels dotting the 80-mile-long resort area are celebrating something that hasn't happened in over 5,000 years: The last 394-year cycle in the Mayan "long count" calendar ends on Dec. 21, and a new cycle starts on Dec. 22.
"What's more," says historian Jaime Capulli, "many experts see the debut of the new cycle as the kick-off to a Mayan renaissance in culture, art, well-being and mystic truths."
Among major activities leading up to Dec. 21, the Xcaret Eco-Archaeological Park on the Riviera is offering a series of special events. One is a reenactment of old-time Mayan life in the park's nightly "Mexico Spectacular" performance. Others include a "Hand the Sun Over" ceremony with 104 flying macaws and "mystical meditation guided nature journeys."
The Xel-Ha Natural Aquarium is staging "a special purification and transformation experience at the mouth of the world's longest underground river," a floating candle ceremony, "yoga by the sea" sessions and briefings on Mayan predictions in astrology.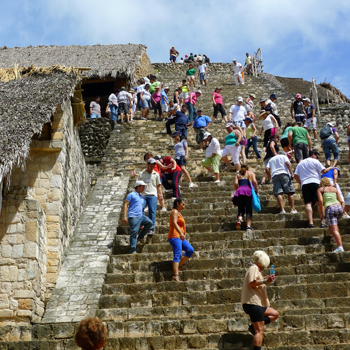 At the Xplor Eco-Adventure Park, visitors are challenged "to open up their conscience and senses" by flying blindfolded on a 147-foot-high zipline over patches of jungle as long as eight football fields.
Operators of the ancient Mayan ruins of Tulum are celebrating the new era at a newly built "Pyramid of Positive Thinking" made of recycled plastic bottles, each containing positive thoughts written by locals and visitors. The Mayan-styled pyramid is expected to eventually contain more than 700,000 written thoughts.
Many of the Riviera's hotels are offering special events and activities as well. Besides "end of the Mayan calendar" parties on Dec. 21, the hotels have come up with Mayan-themed activities accenting everything from "purification, interconnectedness and sustainability" to "self-reflection, renewal and ascending to the highest truth."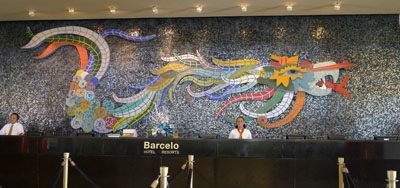 Other hotels are spotlighting visits to Tulum, Chichen Itza, Coba, Ek' Balam and other Mayan archaeological sites in the area as well as dips in underground rivers.
At the Viceroy hotel-resort, guests are welcomed by an on-site Mayan chaman (priest) and can "immerse themselves in the cultural and spiritual Mayan traditions" during their stay.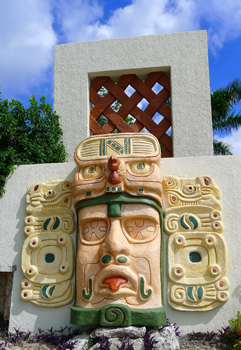 And at least one hotel is trying to make a few pesos on the notion that the end of the calendar might trigger the apocalypse. In its "Doomsday Promotion," the
Condo Hotels in Playa del Carmen are offering guests staying at least three nights including Dec. 21 the last night free "if the world doesn't end (that night)."
Getting there: The Riviera Maya is served by nonstop flights to Cancun International Airport from San Francisco, Los Angeles, Denver, Houston, Dallas/Ft. Worth, Phoenix and many other gateway terminals in the U.S.
More info: Visit the Riviera Maya Destination Marketing Office at www.rivieramaya.com and the Mexico Tourism Board at www.visitmexico.com.