Text by Patty Cruz Lopez
Photos by Mary J. Andrade
Walk through the doors of the Martin Lther King Jr. library, in San José, California, between the dates of Oct. 16 through Nov. 7 and there is an undeniable pull towards the ascending elevators where the fourth floor button flickers on and off taunting visitors to get close and personal with death.

The elevator doors slide open and the senses are inundated by the smell of the marigold flower beckoning both the living and the dead to come and take a peek. A large black and white skull stands guard at the entrance of the exhibit called The Art of Remembrance, part of the 11th annual Día de los Muertos Celebration presented by San Jose Multicultural Artists Guild and Teatro Familia Aztlan.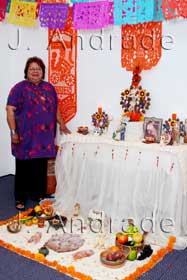 Día de los Muertos or Day of the Dead is celebrated in Mexico on Nov 1st to honor deceased children and infants, and on Nov. 2nd to honor adults who have passed. The day is observed inside homes, as well as at individual gravesites. In homes across Mexico and now the U.S. preparations to welcome the spirits of the dearly departed begin up to a week prior, when families gather the materials essential for creating a commemorative Altar.
This exhibition highlights a long-standing tradition in Mexico, which celebrates the fate that awaits us all and at the same time recognizes an emerging artistic genre, the Altar. An exhibit that sparks nostalgia and conversation about a topic that is taboo, The Art of Remembrance, coordinated by Mary Jane Solis, brings together the works of recognized local artists Solis herself, Carlos Perez, Juana Guevara, Lissa Jones, Diana Gaspar-Oliver, Pilar Aguero, Phyllis Carrasco, Efrain Peralez and Mary Andrade.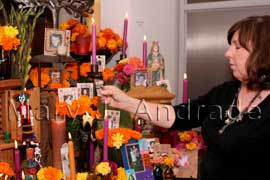 Each Altar presented in The Art of Remembrance takes on a life of its own. Although mostly unified by signature elements such as photos, personal memoirs, the marigold flower, Mexican sweet bread and skeletons made of sugar, there is an unmistakable sense that the elements represented in each Altar were thoughtfully placed in honor of specific people who's spirit is welcomed to be among the living. An artist featured in the exhibit Diana Gaspar-Oliver says, "It was important to me to portray the message I've been developing, which is centered on women. I wanted to dedicate the Altar to the strong women that have gone through cancer."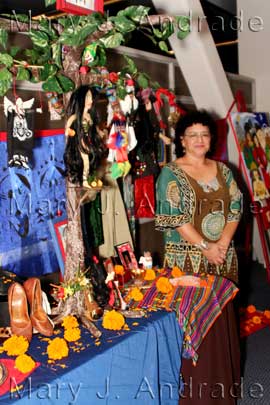 Gaspar's Altar features a painting of Frida Kahlo, the tree of life, and pictures of various women who have passed such as her friend Maricela, who died of pancreatic cancer and Rosalinda who passed 9 years ago in her fight against breast cancer. Gaspar says, "The Altar conveys remembrance, not just spiritual but humanitarian. Don't forget people who have passed, do something about it. People are still dying of cancer."
The Altar is an offering to the spirits of those who have passed signifying that they have not been forgotten. This true form of artistic expression conveys conflicting states of being such as happiness and sadness, prosperity and poverty, while inviting the viewer to question whether there is more to life after death.