Ingredients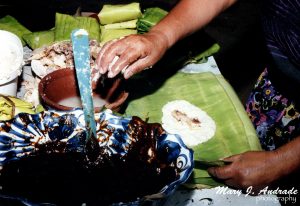 5 lbs. chicken
8 cups of water
1 garlic clove
½ onion
t Tbs. salt
Sauce: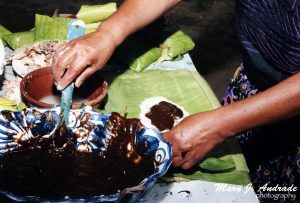 9 oz. chiles anchos, seeds and membranes removed
8 oz. chiles guajillo, seeds and membranes removed
6 oz. chiles chilguacle, seeds and membranes removed6 lz. Onion
9 oz. sesame seeds
9 oz. raisins
9 oz. almonds
1 piece french bread
2 lbs. chocolate
1 ½ stick cinnamon
10 lbs. tomatoes
1 tbs. sugar
8 whole cloves
4 black peppercorns
½ tsp. aniseed
chicken stock
salt to taste
Preparation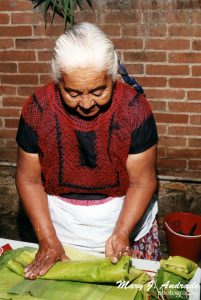 Rinse the chicken. Place it with water, garlic, onion and salt in a large pot or Dutch oven, bring to a boil; cover and simmer over medium heat for 1 hour or until the chicken is tender. Drain, reserving the stock, and set aside.
To make the sauce, heat 2 tablespoons of the oil in a skillet, add the chiles anchos, pasillas and guajillos and sauté for 1 or 2 minutes. Transfer to a bowl, cover with hot water and soak for 30 minutes. Drain, transfer to a blender and puree. Set aside.
Roast the tomatoes. Peel the tomatoes, transfer to a blender, and puree. Set aside.
In the same oil in which you sauted the chiles, sauté the onion and garlic for 2-3 minutes. Transfer to a blender. In the same oil, sauté the almonds for 5 minutes. Transfer to a blender. Add the cloves, peppercorns, cinnamon, bread and aniseed and sauté for 3 more minutes. Transfer to the blender, add the raisins and puree.
Heat a cup of oil in a large pot or Dutch oven. Stir all of the purees together, add to the pot and boil for 5 minutes, stirring constantly. Add the chocolate and sugar, stirring constantly. When the mixture comes to a boil, add 4 cups of the chicken stock. Cover and cook over low heat for 20 minutes. Add salt and seasoning to taste. If the sauce is too thick, add more stock.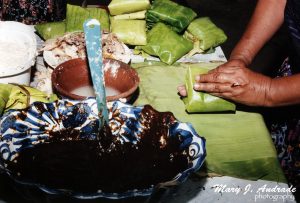 Add the pieces of chicken, cover and cook over medium heat for 10 minutes. Meanwhile, toast the sesame seeds in a small skillet over medium heat until they are golden. Serve the cken mole hot, sprinkled with the sesame seeds.
How to prepare the dough for the tamales.
In Oaxaca the dought for tamales is made the traditional way; to begin, corn is cooked with lime for the nixtamal. Then the nixtamal is taken to the mill where the corn is ground and thus the tamale dough is made. Here in the United States one can easily find a pre-pared tamale dough in stores that sell Mexican products.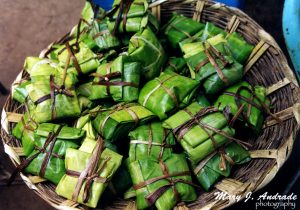 To the dough just add pork fat and knead well. Overlapping layers of banana leaves are used to wrap the tamale. Fist place the dough, then the chicken and cover with the mole sauce. The tamale is then placed in a steamer for two hours.
The Oaxacan women know the art of folding the banana leaves so that the content of the tamale do not spill out.
The tamales are then cooked in a steam bath for 40 to 45 minutes.