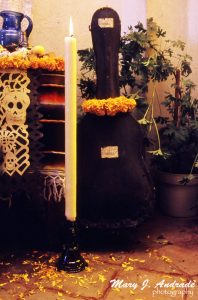 Artistic and community voices from the past, present, and future will come together for this year's Días de los Muertos exhibition and related programs, marking two decades of the Oakland Museum of California's
commitment to uniting Bay Area communities around healing and remembrance. Highlighting contributions from pioneers of Días de los Muertos celebrations in the Bay Area and newer voices that continue to evolve this living tradition, the exhibition will include works from Jose Guadalupe Posada, Carmen Lomas Garza, Patssi Valdez, and Jesse Hernandez, among others.
Co-curated by OMCA Senior Experience Developer Evelyn Orantes and Guest Curator Bea Carrillo-Hocker, Songs and Sorrows, the 20th anniversary of the exhibition at OMCA, will explore the tradition from its pre-Hispanic origins to its present expressions in California.
The 20th Annual Days of the Dead Community Celebration, taking place in the Museum gardens on Sunday, October 26, 2014 and featuring tasty food, dance and music groups, colorful altars and more, brings the community together for this healing tradition.