Cancun, Mexico (October 25, 2014) – The Cancun Convention & Visitors Bureau (CVB) is proud to share pre-Hispanic traditions with visitors from all over the world, including the upcoming holiday, Day of the Dead, also known as El Día de los Muertos. Over a backdrop of turquoise waters and white-sand beaches, the destination celebrates with traditional vibrant colors, music and mysticism that come with this elaborate and festive holiday.
The Day of the Dead is seen as a syncretism of Mesoamerican and Spanish Catholic beliefs, and is one of the most important celebrations in Mexico. The holiday involves several rites, among them the decoration of tombstones and graves with altars using items like embroidered table cloths where the favorite foods of the deceased are placed. Among the foods presented at the altars, the most important traditional meal is the "pib," a corn cake stuffed with meat and spices cooked in an underground handmade oven.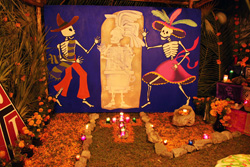 Several eco-archeological parks celebrate this holiday including Xcaret, which hosts the Life and Death Festival that features traditional altars, theater, music, dance, folk art and gastronomy.
Hanal Pixan, Mayan for Food for Souls, is a traditional pre-Hispanic holiday in which people come together to celebrate and remember their friends and relatives who have passed away. This holiday is held November 1 and 2 when, according to this ancient tradition, souls receive permission to visit their relatives.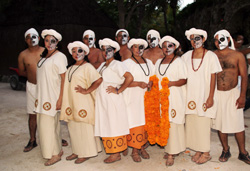 Alltournative is another company committed to preserving Mayan heritage that also celebrates this unique holiday. On November 2, Alltournative participates in the celebrations of the Tres Reyes Mayan community where tourists and locals alike are able to witness the different altars, and enjoy Day of the Dead traditional meals the way local Mayan people still celebrate today. Visitors will also experience a magical ceremony where Crisanto, a Mayan shaman of the community, invites the souls of the dead to be a part of the celebrations.
The Cancun Maya Museum will showcase its newest exhibit: CATRINAH 2014. Available for viewing November 1 – 16, this expo showcases Mexico's traditions to locals and tourists from all over the world and will display life-sized representations of Catrinas in Mexican attire. Catrinas depict female skeletons dressed in 20th century upper class European fashion, and have become a symbol of Mexico and the Day of the Dead. Catrinas were made famous in the early 1900's by famous Mexican printmaker, cartoon illustrator and lithographer Jose Guadalupe Posada.
The Cancun CVB welcomes visitors and locals alike to take part in this mystical holiday celebration, which combines pre-Hispanic and Mexican culture, local cuisine and unique festivities that showcase one of Mexico's most popular and infamous holidays.