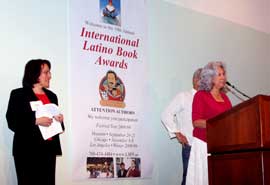 La Oferta Publishing company is proud to announce that "Day of the Dead A Passion for Life" won two International Latino Book Awards for the Best Travel Book (Bilingual) and Best Cover Design (Soft Cover) . The awards were presented to the author, Mary J. Andrade, during BookExpo America on May 29, 2008, at the Los Angeles Convention Center.
In recognition of the many positive contributions being made to Latino literature by publishers and writers worldwide, Latino Literacy Now, created the Latino Book Awards in 1999. "Day of the Dead A Passion for Life" was also a finalist in the 2008 Benjamin Franklin Award for the Multicultural category.
The Benjamin Franklin Awards are sponsored by PMA, the Independent Book Publishers Association, and celebrate excellence in editorial and design for titles published in 2007. Judges for the Benjamin Franklin Awards come from all areas of the industry: major newspaper and trade media reviewers, bookstore and library buyers and reviewers, non-competing publishers, artists and writers who serve the industry.
These awards were also presented on May 29, on the eve of BookExpo America 2008, at which time winners were recognized for setting standards and the pace for the publishing industry. "Day of the Dead A Passion for Life," published by La Oferta Publishing Company in 2007, focuses on the way the P'urhepecha people in the State of Michoacan, Mexico honor Life through Death. In this book, the author takes the reader for a ride deep into their traditions, explicitly documenting the differences and similarities of how these indigenous communities honor the lives and memories of their ancestors during the celebration of Day of the Dead.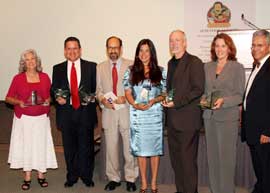 As The Midwest Book Review wrote about this book, it is: "Lavishly illustrated with full-color photography on practically every other page. A beautiful holiday tribute ideal for public libraries and reference shelves, or for ordinary readers to savor simply paging through." Mary Andrade has devoted her life to the research of Day of the Dead. Her passion knows no boundaries. She's recognized as an international authority on Day of the Dead, a celebration so unique in its form that it was declared in 2003 Masterpiece of the Oral and Intangible Heritage of Humanity by the UNESCO.
Mrs. Andrade has presented over 170 photographic exhibits on Day of the Dead in the United States, Ecuador, Spain, France, Mexico, Egypt and Chile and has published seven other books on the subject. She has been the recipient of many international awards, such as the OHTLI and two Silver Quills and one Silver Lens presented by former presidents of Mexico, Vicente Fox and Ernesto Zedillo. The research and publication of Day of the Dead A Passion for Life, was possible in part by the support of the Office of Tourism of the State of Michoacan and is now available for purchase at hundreds of bookstores in the United States as well as through La Oferta Publishing Company.
For additional information visit Mary J. Andrade's award-wining websites: www.dayofthedead.com or email her directly: mary@laoferta.com "Day of the Dead A Passion for Life" Author: Mary J. Andrade Bilingual: English and Spanish Pages: 200, color photographs ISBN: 978-0-9791624-0-4 Price: $29.95 Pub. date: June 2007 Contact: Veronica Murguia Tel: (408) 436-7850 x 12 e-mail: veronica@laoferta.com
El libro "Día de los Muertos Pasión por la Vida" recibe varios premios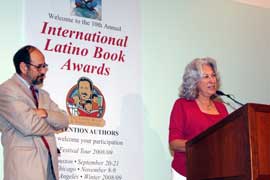 En el marco de BookExpo America 2008, celebrada en la ciudad de Los Angeles, California, el libro "Día de los Muertos Pasión por la Vida" publicado por La Oferta y escrito por Mary J. Andrade recibió dos premios importantes, por parte de los Premios Internacionales del Libro Latino. "Día de los Muertos Pasión por la Vida" fue reconocido con el Primer Lugar bajo las categorías de "Mejor Libro de Viajes" (bilingüe) y "Mejor Diseño de Cubierta".
La premiación se llevó a cabo el jueves 29 de mayo del 2008, en el Centro de Convenciones, donde se realizó la Feria del Libro. Este premio fue establecido en 1999 por la organización Latino Literacy Now, con el objeto de destacar las contribuciones positivas de la literatura latina en los Estados Unidos y la que realizan los escritores a nivel mundial. "Día de los Muertos Pasión por la Vida" fue también finalista en los Premios Benjamin Franklin 2008, bajo la categoría Multicultural.
Estos premios fueron instituidos por la Asociación de Publicaciones Independientes (PMA), con el propósito de celebrar la excelencia en contenido editorial y de diseños de los libros publicados en el año anterior. Los jueces de los Premios Benjamin Franklin son seleccionados de todas las ramas de la industria: críticos de la materia en periódicos, personal encargado de la compra de libros para bibliotecas y librerías, artistas y escritores que sirven en esta industria. Estos premios también fueron presentados el día anterior al inicio de BookExpo America.
Durante la sesión, finalistas y ganadores fueron mencionados por establecer condiciones de excelencia en la industria de publicación de libros.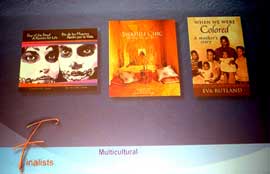 "Día de los Muertos Pasión por la Vida" fue publicado por La Oferta en el 2007 y enfoca en la manera como los p'urhepechas en el estado de Michoacán, México, honran la Vida a través de la Muerte. En este libro, la autora lleva al lector en un vasto recorrido de las tradiciones que este grupo indígena ha mantenido por siglos, documentando explícitamente las diferencias y similitudes de cómo sus pobladores honran las vidas y los legados de sus antepasados, durante la celebración de Día de los Muertos. "Ilustrado espléndidamente con fotografías de color prácticamente en cada una de las páginas. Es un tributo ideal de una celebración maravillosa, a la vez que sirve de referencia, en las bibliotecas públicas, al lector deseoso de disfrutar de cada una de sus páginas". –
The Midwest Book Review. Mary J. Andrade ha dedicado gran parte de su vida a investigar esta tradición. Su pasión no tiene límites. Ella ha sido reconocida por su investigación sobre Día de los Muertos, una celebración tan única por su significado, que fue declarada por la Unesco en el 2003 como "Obra Maestra del Patrimonio Oral Intangible de la Humanidad".
Mary Andrade ha realizado alrededor de 170 exposiciones fotográficas sobre el tema en los Estados Unidos, Ecuador, España, Francia, México, Egipto y Chile, habiendo publicado además otros siete libros sobre sobre Día de los Muertos. Ha recibido varios premios internacionales, como el OHTLI; dos Plumas y una Lente de Plata que le fueron presentados por los ex-presidentes de México, Vicente Fox y Ernesto Zedillo. La investigación y publicación de Día de los Muertos Pasión por la Vida fue realizada en parte con el apoyo de la Secretaría de Turismo del Estado de Michoacán.
El libro está a la venta en cientos de librerías en los Estados Unidos, así como a través de su casa editora La Oferta Publishing Company. Para información adicional visite los portales de Mary Andrade: www.dayofthedead.com,– o envíele un mensaje a: mary@laoferta.com "Día de los Muertos Pasión por la Vida" Autora: Mary J. Andrade Bilingüe: English and Spanish Píaginas: 200, color photographs ISBN: 978-0-9791624-0-4 Precio: $29.95 Fecha de Publicación: Junio 2007 Contacto: Veronica Murguia Tel: (408) 436-7850 x 12 e-mail: veronica@laoferta.com